Who Knew There was SO MUCH to do in Balboa Park? (Part One)
First a little history about Balboa Park:
The park is 1200 acres located in the heart of Hillcrest. It is one of the oldest tracts of land in the US dedicated to public use. It was originally known simply as "city park." In 1892, Kate Sessions offered to assist the city with the beautification and planting of the park and she became known as "The Mother of Balboa Park." Ms. Sessions was given 32 acres of parkland to plant a commercial nursery where she introduced birds of paradise, queen palm & poinsettias. Around 1910, there was a plan created to improve the Park since it would be hosting the 1915 Panama Exposition and that's when the name was changed to Balboa Park in honor of Vasco Nunez de Balboa who was the first European to spy the Pacific Ocean while exploring Panama.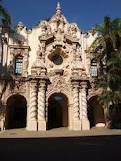 Originally, most of the structures at the park were built as temporary exhibits for the Panama-California Exposition in 1915-1916, and the area was named The Plaza de Panama. The only permanent structures for the exhibit were the California Building and Tower (Museum of Man), the Cabrillo Bridge, Spreckels Organ Pavilion and the Botanical Building. Since that time, all of the structures have received substantial reinforcement but most have kept their original architecture. In 1977, Balboa Park received the designation of a 'National Historic Landmark.'
Interested in going to a museum? The following museums are ALL located in Balboa Park (talk about 'one-stop-shopping!'):
San Diego Natural History Museum
The George W. Marston House Museum
San Diego Museum of Man
Centro Cultural de la Raza
Museum of Photographic Arts
Museum of San Diego History
Reuben H. Fleet Science Center
San Diego Model Railroad Museum
Mingei International Museum
San Diego Art Institute: Museum of the Living Artist
San Diego Automotive Museum
San Diego Air & Space Museum